Back To News
10 Aug, 2022
Forglass expertise in large-scale furnace repairs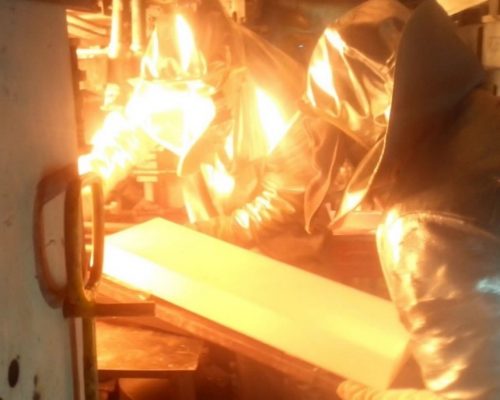 Forglass has recently partnered with one of the world's largest producers of automotive and architectural glass to perform hot overcoating of their float furnace in Europe.
Hot overcoating of a large float furnace is one of the most demanding type of furnace repair, requiring extraordinary organization and an exceptional team. It involves a large number of highly skilled workers and supervisors, who have to work in extremely harsh conditions. During hot overcoating, the furnace is kept around its operating temperature, so people working around the furnace must wear special protective clothing, gloves, face and head shields and other garments that protect the human body from exposure to extreme heat.
Scheduling this type of work has to account for another factor, which is human endurance while working in extreme conditions. Teams must work in short intervals giving them time to rest and cool off. Hot overcoating of a large float furnace is planned to minimise glass-to-glass time and there is no room for delay. Detailed planning is key, allowing exactly the right amount of time to complete each task. The efficiency and quality of work has to be 100%, as there is no time to redo a mistake. It has to be done correctly the first time. Clearly, the high skill level of everyone involved is essential in this type of work and Forglass has exactly these kinds of experts on staff!
Marek Kaminski, the Polish polar explorer and Guinness record holder needs no introduction. Among his many accomplishments is the creation of Life Plan Academy – a unique self-development program, aimed at youth aged 14-17 who are at risk of social exclusion and may lack their communities' support in their personal growth. The latest instalment of this program is Life Plan Expedition, which took place in June and was aimed at building psychological resilience in young people. Together with his travel companion, a robot named NOA, Marek met with young students, as well as teachers, experts and parents. Especially important in those meetings were also children fleeing the war in Ukraine.
One of the first meetings of Life Plan Expedition took place in Kraków at the offices of Forglass – the company, who partnered with Life Plan Academy and has been supporting the organization from the very beginning. Forglass is extremely proud of its partnership with Marek Kaminski and Life Plan Academy. This program would not exist without its strategic partners and sponsors, and the more companies and organisations become involved, the better our world will be! By taking care of our kids, we can assure a better future for them and for ourselves.
If you are an individual or organization, who wants to get involved in this important initiative, you can find out more about Life Plan Academy and how you can help. Visit https://marekkaminski.com/en/ or contact Marek Kaminski's Foundation at +48 607 900 033 or fundacja@kaminski.pl