Services & Support
Construction & Hot Services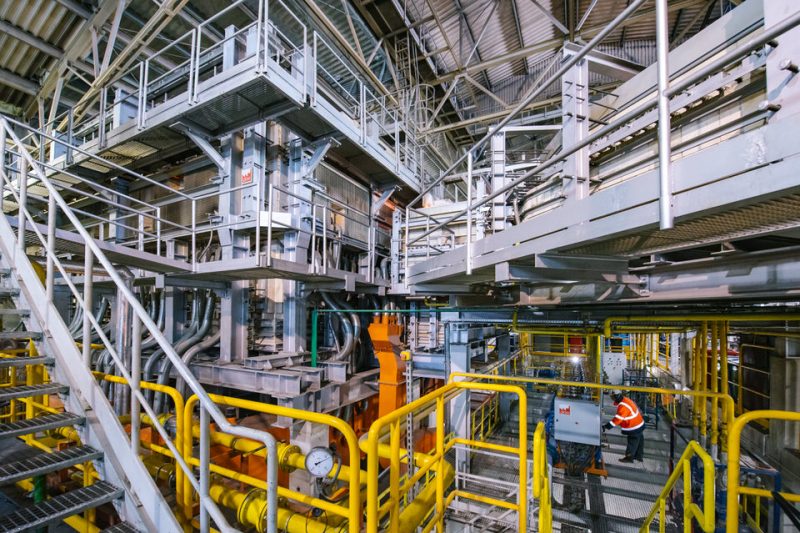 Construction & Hot Services
Repairs, renovations and modernisations done right and on time.
Hot Services – everything that can be done to a furnace while it's kept hot
Full overcoating of float furnace
Hot overcoating of a large float furnace is the most demanding type of furnace repair, requiring extraordinary organization and an exceptional team. It usually involves more than 100 highly skilled workers and supervisors, who have to work in extremely harsh conditions. During hot overcoating, the furnace is kept around its operating temperature, so people working around the furnace must wear special protective clothing, gloves, face and head shields and other garments that protect the human body from exposure to extreme heat.
Scheduling this type of work has to account for another factor, which is human endurance while working in extreme conditions. Teams must work in short intervals giving them time to rest and cool off. Hot overcoating of a large float furnace is planned to minimise glass-to-glass time and there is no room for delay. Detailed planning is key, allowing exactly the right amount of time to complete each task. The efficiency and quality of work has to be 100%, as there is no time to redo a mistake. It has to be done correctly the first time. Clearly, the high skill level of everyone involved is essential in this type of work and Forglass has exactly these kinds of experts on staff.
Forglass Hot Services also include:
Glass draining
Cooling down & temperature holding
Heat-up
Delivery of water jackets
Delivery of exhaust systems
Thermal and mechanical cleaning of regenerators
Unblocking regenerator chambers
Full replacement of checker pack with furnace in continuous operation
Advancing of electrodes
Drilling of bubblers
Hot replacement of tuckstones
Hot sealing
Crowns hot repairs
CIP in hot conditions
Endoscopy, thermovision, furnace audits

Construction services – from small repairs to greenfield projects
Demolition
What goes up, has to come down. When a furnace or some of its parts reach the end of their life cycle, they have to be cleared to make room for the new. Forglass offers a full range of services necessary for this, including:
Demolition of steel and refractories
Disassembly of equipment
Delivery of confinements
Demolition of hazardous materials
Waste handling and disposal
Steel structures
Whether it's a new float or container glass furnace, or a partial rebuild, Forglass provides all of the components of the furnace's steel structure. With in-house manufacturing, we have full control over the quality and can be flexible with delivery, assembly and modifications.
Refractories
Installation of feeders
Installation of regenerators
Installation of melting tanks
Raising the Working End of a Float Furnace
Raising the Working End, Waist and Canal monorails without disassembling the refractories, where the total weight of the construction to be raised is well over 1000 tons, is a complex and demanding project – exactly the type that Forglass loves to take on!
We prepare complete technical documentation for the scope of the project, fabricate and install the support structure, select and install a synchronous hydraulic system, modify and reinforce the existing structure and finally perform the  synchronised raising of the Working End.
The synchronous hydraulic system used by Forglass guarantees a smooth and safe lifting of the entire structure and the pre-determined height of the raised structure is confirmed at each of the control points.
Recuperators
Complete replacement of recuperators
Replacement of piping
Replacement of refractory lining